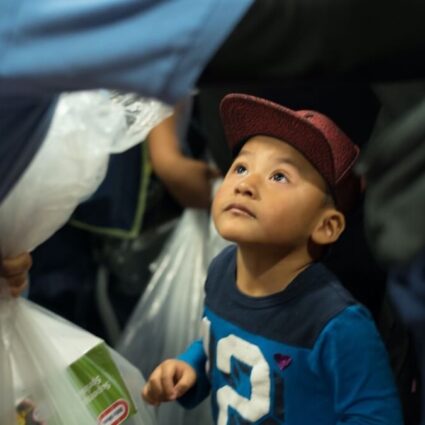 This is a complex time. What remains clear is the knowledge that we must rally together to support and protect those among us who are struggling the most. The incredible confluence of health, economic, and racial crises we are living through is unprecedented, as is our responsibility to push our own limits and imagine contributions beyond what we might have considered in the past.
In late May, my father began working with a small group of local donors and nonprofits focused on providing support for those in our community who have been hardest hit and yet have received the least assistance. Specifically, they worked to identify solutions for the nearly 60,000 undocumented individuals in San Mateo County who have been excluded from other funds and supports. What emerged from their collaboration, and his absolute commitment to rallying others to join their efforts, is a new Immigrant Relief Fund for San Mateo County. The new fund is a partnership between Legal Aid Society of San Mateo County, Samaritan House, Faith in Action Bay Area, and Mission Asset Fund (MAF). From my father's initial investment of $5.2M, they have grown a nearly $9.6M fund that will provide more than 9,000 families with an infusion of funds and access to wraparound services to help them weather this crisis.
Bolstered by an additional nearly $2.4M in collective contributions from other local families and foundations, my father called on the San Mateo board of supervisors to further expand the fund's reach and impact. In early July, they contributed an additional $2M to the fund on behalf of the county and committed to consider additional $1M contributions at each upcoming monthly meeting.
As inspiring as the Fund is, and as proud as I am of our community for stepping up to invest in our shared future, it will currently support fewer than 20% of those who need and deserve our immediate support – and that is in San Mateo alone.
With my father's gift focused specifically on serving communities in San Mateo County through the San Mateo Immigrant Relief Fund, Sobrato Philanthropies contributed an additional $3M to related funds – $1M will go to Santa Clara County to support Destination: Home and $2M will support nine Bay Area counties through Grantmakers Concerned with Immigrants and Refugees (GCIR)'s California Immigrant Resilience Fund.
We are just at the beginning of this crisis. The need is urgent, persistent, and growing. And while our collective challenges may seem insurmountable at times, they are also opportunities. Now is the moment to find inspiration in the ability to help. To be of service. To shine a spotlight on the stark inequity the pandemic is laying bare, and to get to work to fix it.
In solidarity,

Lisa Sobrato Sonsini
President & Trustee
Sobrato Philanthropies