Changing the Narrative for Multilingual Learners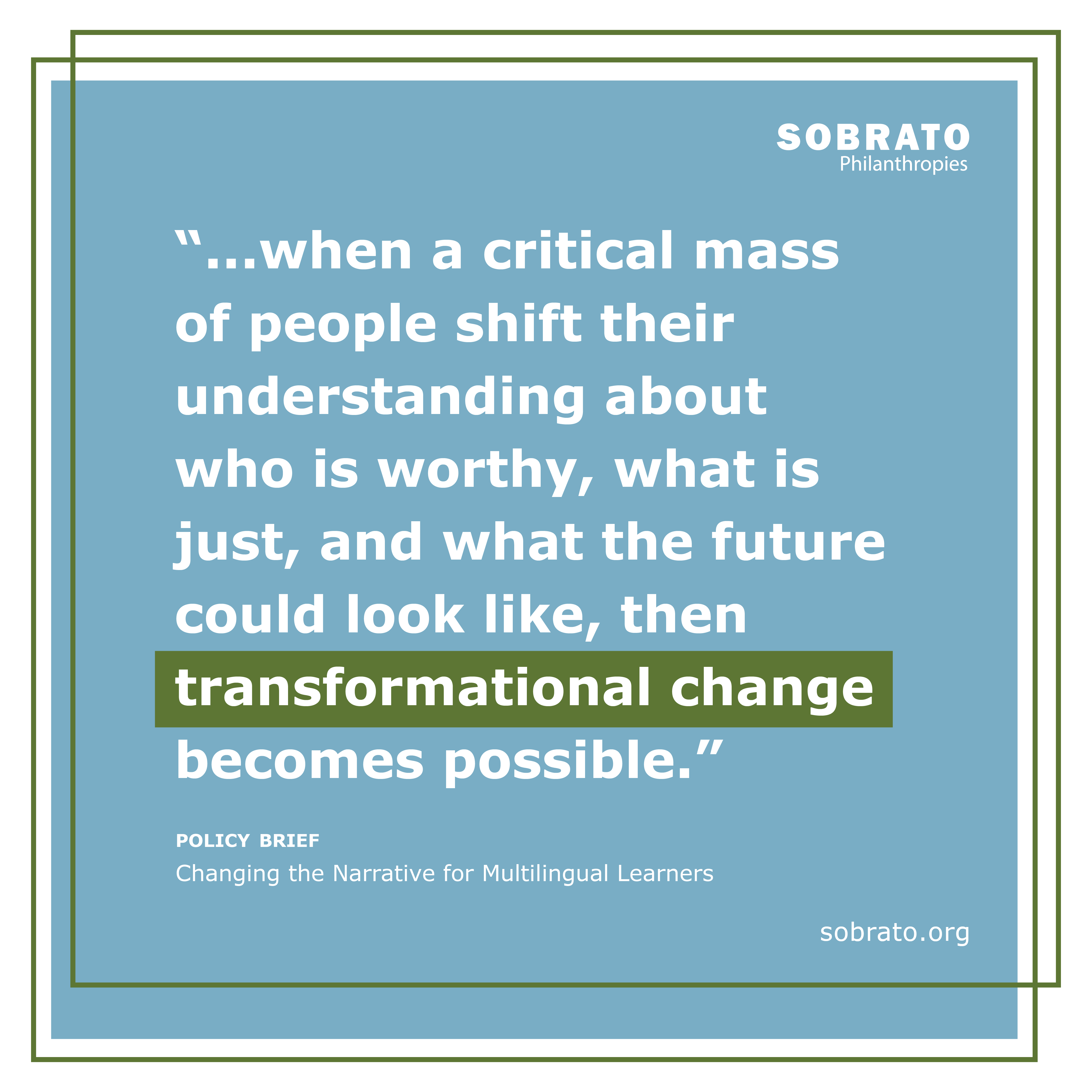 In California, with the nation's largest number of multilingual learner students and a visionary state policy roadmap supporting their success, the narrative environment is ripe for change. Recent statewide research found 75% of residents strongly support multilingual education and believe that speaking more than one language will expand the state's future prosperity, perhaps because almost half of Californians are bilingual.
But at the local level, negative and sometimes racist beliefs about multilingual learners are creating significant barriers to progress, according to partners, educators, and students. They believe these harmful narratives are undermining sound policy and support for multilingual learners, the majority of whom continue to struggle in school.
In 2022, California funders focused on multilingual and early education gathered for a series of learning conversations about how narrative change could positively impact the movement for multilingual education. In the sessions, narrative practitioners, advocates, funders, and evaluators offered these key insights for understanding and supporting narrative change:
Narratives, which shape how people see the world and each other, are at the heart of movements for social change.
Narrative change is collective work that has more impact when many voices and partners organize themselves around the same narrative.
In developing narratives to support multilingual learners, it's essential to engage people with lived experience including students, educators, and families.
When partners embrace a unifying narrative, it can align and accelerate work across policy advocacy, organizing, communications, the arts, and other areas.
Narrative change is long-term work that requires persistence and multiple strategies to challenge and shift the deep-seated beliefs that uphold injustice.
Evaluators have many ways to measure the progress and impact of narrative strategies upon organizations, networks, and in the public dialogue.
Funding narrative change requires a different way of thinking than traditional grantmaking focused on discrete projects with short-term outcomes.
A growing number of grantee partners are eager to learn about narratives and understand the necessity of engaging deep beliefs about immigrants and race in advocating for multilingual learners. Through narratives, they see new possibilities for shaping inclusive school cultures that support policies and practices that create classrooms in which multilingual learners are valued and have every opportunity to thrive.
Read and download Policy Brief: Changing the Narrative for Multilingual Learners >>