The Sobrato family takes a holistic view of its cumulative impact through Sobrato Philanthropies, which encompasses collective giving through the family foundation and its support organization, along with the individual family giving, corporate donations, and impact investments. All monies granted through these vehicles originate from TSO building sales or profits from TSO business activities.
Since its inception, Sobrato Philanthropies contributed more than $644M to organizations working to improve our community in a variety of ways. This giving took the form of $144M in general operating support and strategic program cash grants, $87M in in-kind support of the nonprofit centers, and nearly $23M in special initiatives plus more than $295M in individual family gifts and $94M in land and buildings donated directly to local nonprofits. Additional impact investments in the form of program- and mission-related investments have totaled $30M to date.
Sobrato Philanthropies channels a majority of its community-oriented impact through the Sobrato Family Foundation and the Sobrato Foundation, a public charity/support organization hosted at the Silicon Valley Community Foundation. Currently, this impact is focused in four primary mission areas: Education, Economic Opportunity, Essential Human Services, and Nonprofit Sustainability. A large portion of nonprofit sustainability impact has been created by The Sobrato Organization's donated land and buildings, forming the Sobrato Centers for Nonprofits. Other mission areas, such as Arts & Humanities and Health, are a focus of individual family giving.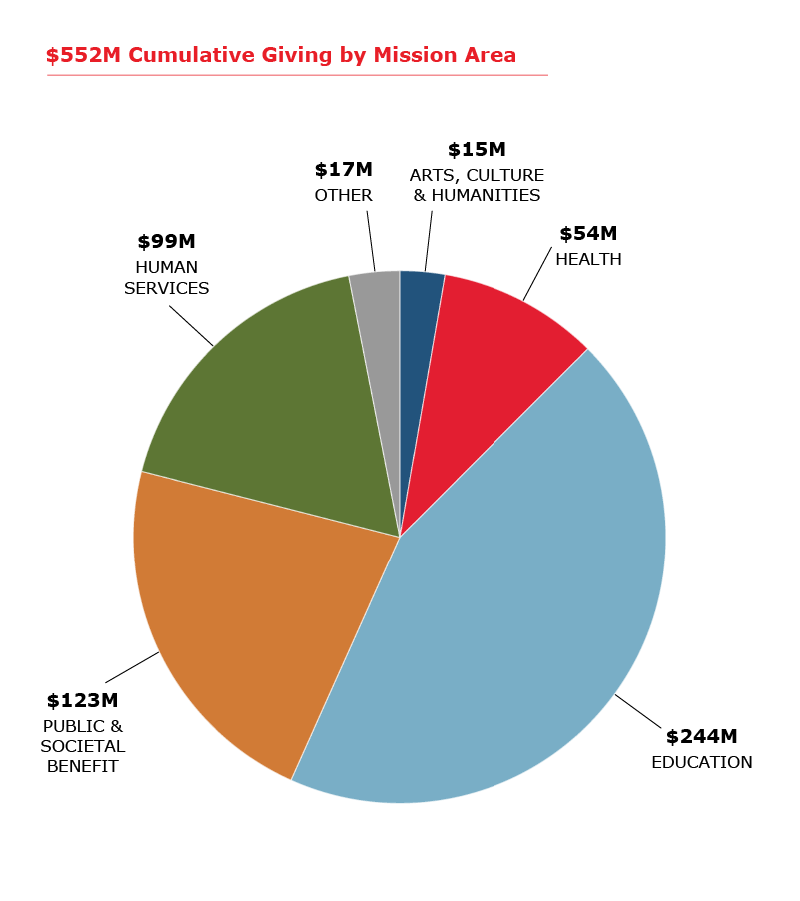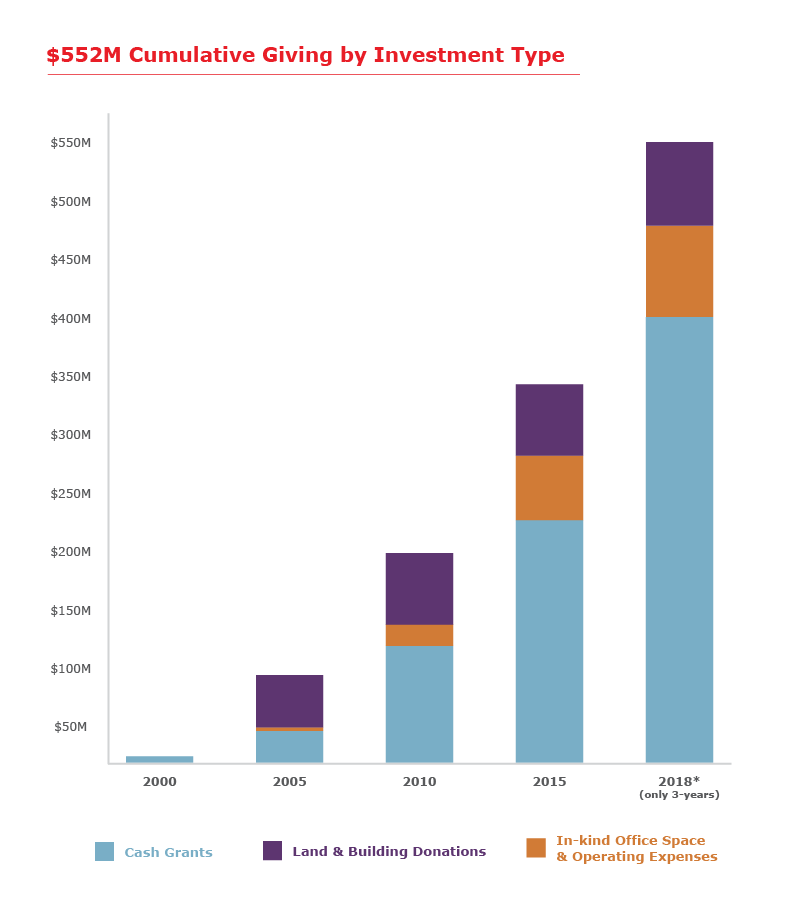 Family Giving
Adding to the range of organizations receiving grants through the Sobrato Family Foundation, support for causes of particular interest to individual family members comes through the form of Donor Advised Funds (DAFs). Funded through the sale of Sobrato real estate holdings, DAFs allow individual family members to make grants to a wider set of causes of personal interest—medical research, environmental sustainability, or global women and children's issues—that lie beyond the focus of the Sobrato Family Foundation. The family's cumulative individual giving between 1996 and 2018 totaled $235 million. The Silicon Valley Community Foundation hosts these funds, along with The Sobrato Foundation mentioned above. (All individual giving is directed by family members, and direct solicitations are not accepted.)
Corporate Giving and Donations
For decades, in addition to the donations forming the Sobrato Centers for Nonprofits, the Sobratos have leveraged significant land and capital to help fill the needs of a large share of Silicon Valley's nonprofit sector through capital grants, the donation of land or buildings directly to nonprofits, or the proceeds from the sales of Sobrato-owned buildings. By the close of 2018, the Sobrato family had donated over $258M in land donations and capital to nonprofits—enabling building projects for 93 organizations in 26 Silicon Valley cities. Additionally, the sales of several TSO buildings—generating $571.5M through the end of 2018—help fund the work of Sobrato Philanthropies.
The Sobrato Organization values its employees as part of the vibrant Silicon Valley community, and invites all employees to participate in the organization's matching gift program. In support of its employees' philanthropic efforts, corporate-matching grants have been made to a cross-section of Bay Area agencies, ranging from preschool through university educational institutions, food banks, and environmental organizations, to public media, health care providers, and job training organizations. To date, the amount given through the matching gift program has been $418K.
Pro Bono Legal Partnership
The Sobrato Family Foundation helps facilitate nonprofit capacity building in partnership with Wilson Sonsini Goodrich & Rosati, which provides pro bono legal assistance to many of our grantees. From the start of the program in 2003 through the close of 2018, Wilson Sonsini Goodrich & Rosati had provided in-kind legal support to 87 grantees, contributing more than 58,338 hours of service.