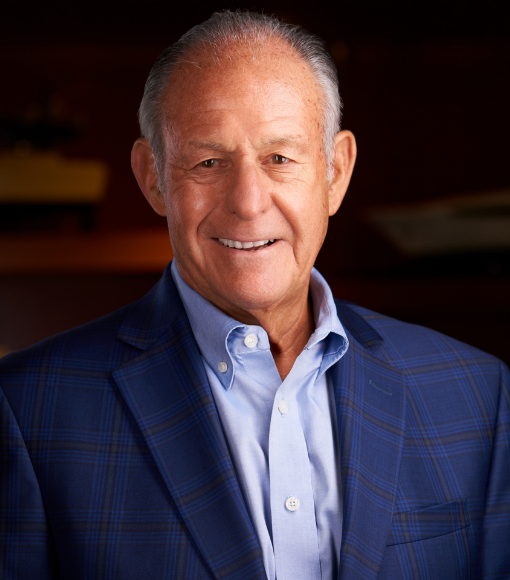 John Albert Sobrato
Board Chair Emeritus, The Sobrato Organization; Board Chair Emeritus, Sobrato Family Foundation
John A. Sobrato is the founder and Board Chair Emeritus of the Sobrato Organization, one of the most successful private real estate firms in California. His career in real estate dates back to 1958 when he began selling homes in Palo Alto at age 18 while attending Santa Clara University. He  became the first salesperson in the Palo Alto Real Estate Board to be named to the Million Dollar Club.
At age 21, after his graduation with a business degree, he founded Midtown Realty, specializing in the resale of Eichler Homes. During the mid '60s, he expanded into commercial development working with his mother, Carl Berg and other investors. The Sobrato Development Company was thus formed over a decade before the area became known as Silicon Valley.
In 1974, he sold his interest in Midtown Realty, moved to Cupertino, and concentrated on developing industrial properties for the emerging high technology industry. Since its founding, the Sobrato Organization has developed over 21,480 million square feet of R&D and office buildings and 10,000 apartment units. Today, the firm still owns 27,870 million square feet of office and multi-family properties, 100% owned by the Sobrato Family without institutional partners.
In 1998, John A. and his family created the Sobrato Family Foundation which provides philanthropic support for Silicon Valley nonprofits. Since its founding, the Foundation has donated cash, real estate, and free office space totaling 550 million dollars. Today, seventy-three nonprofit agencies receive free office space in Sobrato Centers for Nonprofits totaling 350,000 square feet in Milpitas, San Jose, and Redwood City, and an additional site is planned in Palo Alto in the near future.
In 2007, the Sobrato Family Foundation was named the Foundation of the Year by the National Association of Nonprofits, among the more than one hundred and seventy-five foundations nominated for the coveted award. In 2013, the Sobrato Family Foundation was named the number one grantor in Northern California by the San Francisco Business Times. Every year since 2013, the Sobrato Family has been named the number one or two most generous corporation in Silicon Valley by the Silicon Valley Business Journal ahead of Cisco, Intel, Wells Fargo Bank, Google, and other major high-tech companies.
John A. and his wife Susan have been married for 59 years. They have three children and seven grandchildren.  John Michael Sobrato, John A.'s son, is the current Board Chair Emeritus of The Sobrato Organization. John A. attributes the company's success in the past 20 years to John Michael, who has worked at the firm since he was a teenager. Today the Sobrato Organization CEO is Matt Sonsini John's son in law.
Organizations:
Past President, Palo Alto Real Estate Board, Trustee University of Santa Clara, Regent Emeritus, Bellarmine High School, Past President, St Francis High School Foundation, Board Emeritus United Way and Valley Medical Center. Board member Parents Helping Parents, Job Train, Bay Area Council. Ravenswood Family Health Center. Vice-Chair Latino Education Advancement Foundation that operates three high schools in East San Jose. Co-Chair Real Estate Trust of the Silicon Valley Community Foundation and Chairman of The Sobrato Family Foundation.
Recent Awards:
Honorary Doctorate Santa Clara University and the National Hispanic University, Junior Achievement Hall of Fame 1989, United Way De Tocqueville Man of the Year 1994, National Conference for Community and Justice Man of the Year 1998, National Society of Fund Raising Executives Philanthropist of the Year 1998, Santa Clara Council Boy Scouts Distinguished Citizen 2000, Peninsula Boys and Girls Club Leading Citizen 2006, City Year Leadership Award 2008, NAIOP Developer of the Decade 2008, Joint Venture Silicon Valley David Packard Civic Entrepreneur 2012. Lifetime Achievement Award by the Silicon Valley Leadership Group in 2016. Bay Area Council Business Hall of Fame in 2019. Bay Area Council 2020 Business Hall of Fame designee. 2020 William E. Simon Prize for Philanthropic Leadership.