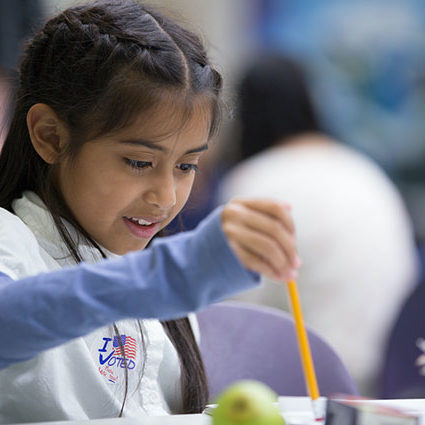 Top Of Mind: Investing in Futures
Growing with our students' needs.
Education can change the trajectory of a young person's life.
For this reason, since the early days of the Sobrato Family Foundation, we have dedicated much of our family's philanthropy to education-related work. From the development of the Sobrato Early Academic Language (SEAL) model more than a decade ago, through the formation of our 21st Century Education strategy in 2013, our education strategy and initiatives have centered around the goal of increasing the economic opportunity of low-income students by improving their educational success.
We have traditionally concentrated our education grantmaking in Silicon Valley, most heavily in East San Jose and mid-peninsula communities—including Redwood City, East Palo Alto, and East Menlo Park. It has been a privilege to engage with a wonderful, diverse set of thoughtful partners—grantees, school leaders and educators, and other donors and funders. Over the last six years, overall rates of K-12 graduation and college-eligibility have increased, indicating a remarkable expansion in students able to live out their dreams and potential.
However, the reality is that in a dynamic world of interconnected challenges to educational attainment and economic mobility for low-income students, our solutions must be as dynamic as the problems we seek to address. Last year, having seen tremendous growth and success with the SEAL model, and significant progress with the 21st Century Education program, we began thinking about what comes next—how we could reach even more students and make even greater accomplishments accessible?
With ongoing analysis and strategic planning as a core component of our family's approach to philanthropy, our Board and staff has spent the greater portion of 2019 reflecting on our priorities and considering new opportunities. As a result, we have decided to expand our investments in a robust strategy for English Learner policy and advocacy, and continue to support the operations of SEAL—with the goal of reaching English Learners across California. We have determined that we can achieve the greatest good by impacting statewide policy, because only by working at the state level can we truly influence local practice and progress in all communities where English Learners aspire to learn and succeed.
Our day-to-day lives and the vast majority of our giving are grounded in the Silicon Valley community so, starting in 2020, we will also begin funding initiatives that help local low-income students complete college and ultimately transition into a good first job—where they can realize the economic opportunity that has always been our family's long term philanthropic focus.
We look forward to continuing to share our learnings as we evolve further into new areas of support for educational opportunity. Philanthropy is truly a community endeavor, successful only when approached from many angles and with many collaborating investors—be those investments of time, heart, or funds. You are all trusted and essential partners in our work to improve access to opportunity in Silicon Valley and beyond. Thank you!