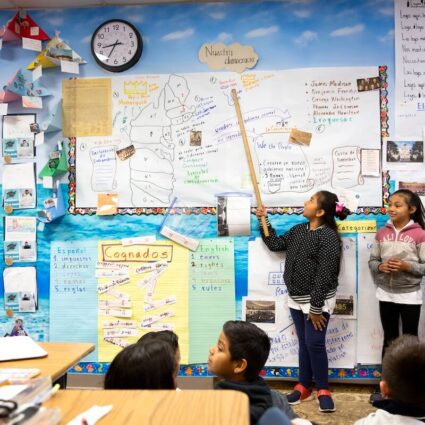 The Intersection of Race, Language, and Immigration
Dear Partners,
Since 2007, Sobrato Philanthropies has been working toward a California education system in which English Learners (ELs) have equitable access to the academic, language, and social and emotional learning opportunities they need to realize their full potential, in and out of the classroom. California is home to more than one million English Learners, including "newcomers" who have been in the U.S. for less than three years. Newcomers can include students with an interrupted formal education, asylees, refugees, unaccompanied minors, undocumented youth, migratory students, and other immigrant children. Many of these students need unique support as they enter school carrying trauma and oftentimes face academic, socioemotional, legal, and other challenges. 
Because these students represent a small portion of the EL population, they are too often invisible and underserved in their school systems. Newcomers arrive speaking many different languages, so the persistent shortage of bilingual educators further limits opportunities for students to have culturally and linguistically competent educators. Newcomers sit at the intersection of race, language, and immigration. As a result, there are immense service gaps and inequities throughout our state. Due to a sparsity of established, research-based practices, it is difficult to adequately address newcomers' various needs or support their success in school. 
At Sobrato Philanthropies, we have had the honor of working with several partners who are focused specifically on expanding the research and practice base for newcomers—and their work is inspiring.
Oakland International High School (OIHS)

, the first

internationals school

in California, is widely recognized for its holistic approach to serving newcomers, leading to increased graduation and college attendance rates compared to other high schools. The

Learning Lab at OIHS

advocates for newcomer policy and uplifts promising practices to educators, policymakers, and researchers.

Californians Together

launched the

Support for Immigrant & Refugee Students Project

to help create a safe learning environment for newcomer students of all backgrounds and to disseminate best practices for teaching immigrant students in all PreK-12 schools throughout California. They offer workshops and tools for educators, run regional networks of school district and county leaders, and connect schools and families to information and resources.

Policy Analysis for California Education (PACE)

recently

convened researchers, policymakers, and educators

to explore new ideas for addressing the educational needs of newcomers. The

recommendations

from this group are informing how the state develops a more comprehensive approach. On top of that, PACE's

series of briefs

are expanding the field's knowledge of newcomers.  
Even within a population of marginalized students, like ELs, we need to look closer, disaggregate the data, and understand their unique experiences. ELs are not a monolith, and we need to recognize, celebrate, and support their diversity. 
Most sincerely,
Doua Thor
Vice President, Strategy and Influence
Sobrato Philanthropies