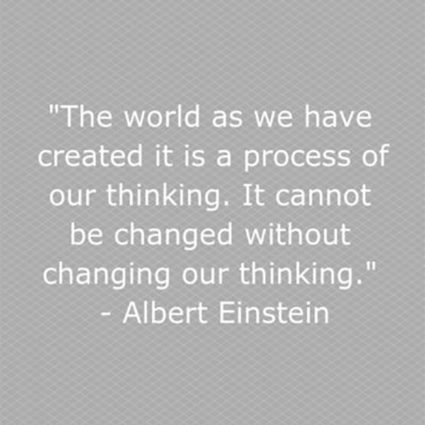 Top of Mind: Reimagining Progress
"The world as we have created it is a process of our thinking. It cannot be changed without changing our thinking." - Albert Einstein 
This time of year it feels like every other email in our inboxes leads with reflection and gratitude. I genuinely enjoy and appreciate the hope infused in these end-of-year messages. I appreciate the reminders that we are making progress. I revel in the sense of opportunity inherent in a fresh new year waiting just around the corner. I'm an optimist.
But, optimism aside, 2018 was tough. This year saw increasing numbers of local families struggling to make ends meet, unprecedented challenges to human decency at our borders, and persistent political turmoil. The systemic barriers we are working to tear down are simultaneously being built up, strengthened, and bolstered by those fighting to not only maintain the status quo but unravel the progress we are making toward a more equitable society. The fight has been, and will continue to be, long and hard. We are all, frankly, exhausted.
Despite our fatigue, we remain determined. And we face these rising challenges with a growing community of allies.
Allies such as Sobrato grantee LifeMoves, which has provided 266,590 nights of shelter to families and individuals, enabling 89% of families and 73% of individuals to return to stable housing and achieve self-sufficiency. And the Ravenswood Family Health Center, which provided over 18,000 patients with medical services this year, regardless of their ability to pay. Or ACE Charter Schools, which is currently launching the ACE National Initiative to support the spread of high-impact programs and schools designed to improve how our public schools serve the highest-need students such as children in foster care, adjudicated youth, and those with special needs.
While it is important to celebrate our impact, there is also value in acknowledging the struggles we face and working to learn from our challenges. 2018 has pushed us to better define our goals and our needs. Foundations and nonprofits alike are reimagining what it means to serve our communities and what it means to work together to create lasting positive change. A recent piece, written by Open Impact and published in the Stanford Social Innovation Review, details an array of new models and tactics to reshape the social sector for the better.
We, and other funders like us, understand the headwinds our grantees are fighting and we stand with you.
Despite persistent setbacks, you have made an incredible impact this year. You have changed lives and secured futures. You have protected families and expanded access to healthcare, housing, and food. You have educated youth and provided essential legal services. You have opened up career pathways and provided support to those in need.
Our community is stronger because of your persistence and dedication. Thank you.
We look forward to sharing 2019 -- its challenges and triumphs -- with you.

Rick Williams
Chief Executive Officer