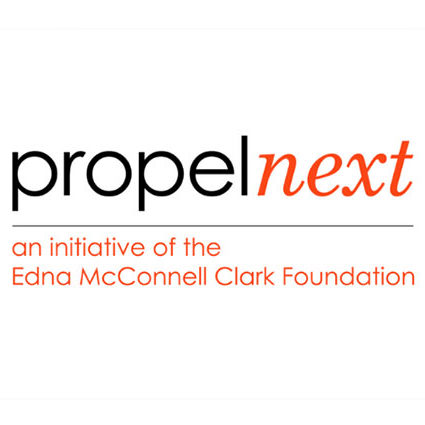 PropelNext California Partnership Selects 15 Grantees
–SFF Grantee Teen Success in Milpitas, CA chosen for 15-organization cohort
–Sobrato Family Foundation to provide 3 years of strategic support
The PropelNext California Partnership is excited to announce that 15 nonprofits have been selected to receive PropelNext grants and join its first California grantee cohort.
Five foundations—the William and Flora Hewlett Foundation, the David and Lucile Packard Foundation, the Sobrato Family Foundation, Weingart Foundation, and the Edna McConnell Clark Foundation—are partnering to deliver the PropelNext program to local nonprofits serving economically disadvantaged youth in the San Francisco Bay Area and Southern California.
Each California PropelNext grantee receives a combination of unrestricted funding along with expert coaching, group learning sessions, and a peer learning community so that grantees are able to strengthen their ability to collect, use and apply data for ongoing improvement and learning. Each organization will receive up to $400,000 in funding over 3 years from one of the four California-based funders (noted in parenthesis below). EMCF will invest an equal amount in tailored coaching and consulting, facilitated group learning sessions and an online learning community.
Through the initiative, the 15 nonprofits will enhance and sharpen their program models, implement strong performance management systems, and develop organizational cultures that facilitate and practice ongoing learning and assessment. The Sobrato Family Foundation is supporting Teen Success and its involvement in the PropelNext initiative.
Rick Williams, CEO of the Sobrato Family Foundation, said, "We are deeply pleased Teen Success is part of PropelNext's California grantee cohort—this is a wise investment." He continued, "As a funder, the Sobrato Family Foundation has supported and witnessed Teen Success' work for years. We are certain that PropelNext's innovative coaching and peer learning opportunities, and its focus on meaningful data collection and application, will lead to an even smarter, even stronger organization."
"Teen Success' work of breaking the cycle of intergenerational poverty is critical to increasing the wellbeing of our entire community," said Mara Williams Low, Program Director of the Sobrato Family Foundation, "Its focus on empowering teen mothers through a strengths-based, relationship approach is working—we're pleased to support and learn alongside this already-effective grantee as it participates in this unique program."
The 15-organization PropelNext California cohort includes:
Alternatives in Action, Oakland, CA (Hewlett Foundation)
Asian Youth Center, San Gabriel, CA (Weingart Foundation)
Beyond Emancipation, Oakland, CA (Hewlett Foundation)
Bresee Foundation, Los Angeles, CA (Weingart Foundation)
Coalition for Responsible Community Development, Los Angeles, CA (Weingart Foundation)
Community Youth Center of San Francisco, San Francisco, CA (Hewlett Foundation)
East Oakland Youth Development Center, Oakland, CA (Hewlett Foundation)
Huckleberry Youth Programs, San Francisco, CA ) (Hewlett Foundation)
Lavender Youth Recreation Information Center, San Francisco, CA (Hewlett Foundation)
Los Angeles Brotherhood Crusade, Los Angeles, CA (Weingart Foundation)
My Friend's Place, Hollywood, CA (Weingart Foundation)
Reach Out West End, San Bernardino, CA (Weingart Foundation)
Silicon Valley Children's Fund, San Jose, CA (Packard Foundation)
Social Advocates for Youth, Santa Rosa, CA (Hewlett Foundation)
Teen Success, Milpitas, CA (Sobrato Family Foundation)
These 15 organizations were chosen through a comprehensive selection process. Over the coming years, the five foundations that make up the PropelNext California Partnership will share what they learn from this work, including publishing the results from a formal evaluation when it is available.
For more details, visit PropelNext.