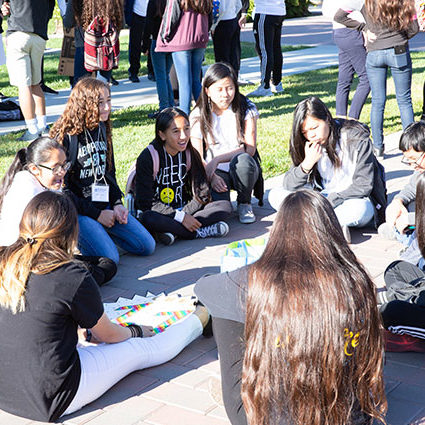 Top of Mind: Philanthropy with Fresh Eyes
Transition and opportunity in local philanthropy.
I am encouraged. Cautiously optimistic. Hopeful.
A number of movements are emerging in what is otherwise an incredibly challenging moment for our country and our communities. These movements, started by activists, our community partners, groups of foundations, and committed individuals are changing the way we see philanthropy, talk about power and privilege, and the way we approach justice, equity, and opportunity.
In recent weeks, I have found myself moving between meetings and conversations focused on collaboration and impact. I am fortunate to have had the chance to participate in discussion after discussion about the way philanthropy must shift to better listen and respond to the communities we serve. Importantly, these discussions have not been limited to evaluating the way we interact with our communities and those we fund, which must improve, but also the way philanthropy itself needs to change if we are to succeed in removing the structural barriers to opportunity for individuals and communities that are being left behind at an alarming rate.
Since the recent election, multiple leadership collaboratives specifically focused on reevaluating the way we approach philanthropy have taken shape, and together we are working to learn and plan for increased local investment, transparency, and community involvement. No one of us can say that we have all of the solutions, but we are sharing information and experience, and working together to improve. The very acknowledgement of the need to learn and shift is what makes me hopeful about what is to come in our field. As the saying goes, we either need to be part of the solution or we are part of the problem.
Just last week, we joined a group of like-minded organizations in celebrating the soft launch of a brand new funder collaborative formed specifically to address challenges identified in the 2016 Giving Code report about Silicon Valley nonprofits and philanthropy. This new work – which is designed to catalyze local philanthropy for a stronger Silicon Valley – is a clear signal of the changing way we are approaching funder-grantee relationships and how we are working to improve the way we tackle our community's most pressing cross-sector challenges. This new group is just getting started, and we look forward to sharing more in the coming months.
In Silicon Valley, in particular, I believe we are entering an era of significant growth and transition. New leaders will soon be taking the reins at numerous influential organizations and foundations. I am hopeful that each will infuse his or her own fresh perspectives and diverse experiences to further strengthen our local philanthropic ecosystem. We have an opportunity now to change for the better.
Sincerely,

Rick Williams
Chief Executive Officer