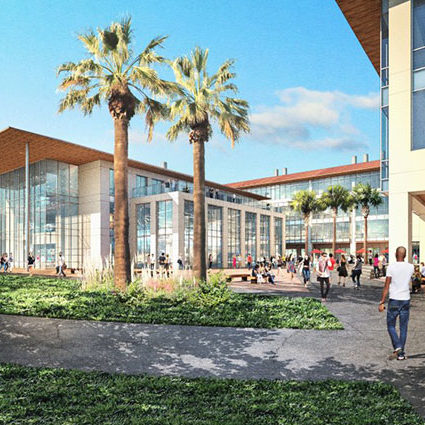 John A. & Susan Sobrato give $100 Million to Santa Clara University for 300,000 square-foot STEM hub
– Largest ever gift establishes the Sobrato Campus for Discovery and Innovation
– State-of-the-art facility for transformational STEM education
This "campus within a campus" will be designed to promote cross-disciplinary exploration to enhance undergraduate student learning and discovery across science, technology, engineering, and mathematics (STEM). Construction of the new building is scheduled to start in the fall of 2018, with completion in 2020. The elegant new building, outfitted with state-of-the-art laboratories and equipment, could be a game-changer for the private, 165-year-old Jesuit university whose reputation was built on the liberal arts, creating a rare opportunity to link fast-moving technical fields with the school's long-standing commitment to ethics.
The gift is the largest in Santa Clara's 166-year history and ranks as the second-largest gift ever to a Catholic university. It will accelerate Santa Clara University's vision and goals for STEM education, which emphasize developing technical expertise, an entrepreneurial mindset, ethical reasoning, and collaborative approaches to tackling society's most urgent challenges.
"Sue and I and our son John Michael have agreed to leave 100 percent of our wealth to the Sobrato Family Foundation to invest in organizations that improve the lives of the less fortunate in the greater Silicon Valley community and to institutions like Santa Clara University, which have helped make the Sobrato Organization the success that it is," said John A. Sobrato.
"This gift is the largest in our family's history. We are especially pleased to support the University's new strategic vision and the transformational STEM initiative at its core. The state-of-the-art, 300,000-square-foot, undergraduate-focused complex will allow for the integration of the various engineering departments with the natural science disciplines of the College of Arts and Sciences to address—with Jesuit values—some of the world's most pressing problems."
Click for San Jose Mercury News coverage,  Santa Clara University's press release, and SCU's page dedicated to the project.