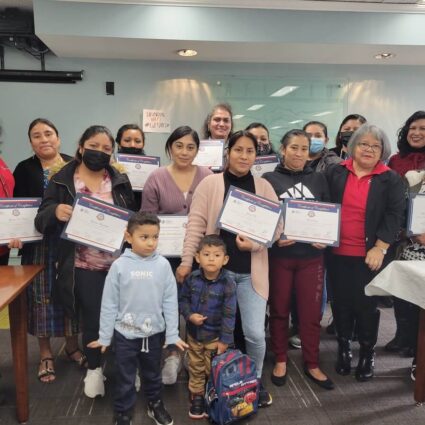 Grantee Spotlight: Parent Organization Network
Grantee Spotlight: Parent Organization Network
Moving parents from individualism to collectivism
We recently sat down with Araceli Simeon, Executive Director of the Parent Organization Network (PON), to learn more about PON's work and their recent English Learner (EL) Campaign, which engages parents, students, and administrators to advance the interests and outcomes of ELs in the educational system.
"Our mission is to unite the power of underserved parents in order to break through barriers in public education so that parents and educators can effectively partner to support students at the end of the day," Araceli said. "I've been working with our Parent Organization Network since its inception in 2005. It was originally brought together by three civil rights organizations, and at that time I worked in one of the three organizations, and then I transitioned over to lead PON in 2013."
As a network, PON has 14 member organizations within Los Angeles County that collectively work to identify and remove barriers that hinder family and community engagement in schools. Their efforts include policy advocacy and monitoring implementation, capacity building, and engaging with members and partners to assess progress, challenges, and needs. 
PON primarily works in Los Angeles, Long Beach, Lynwood, Pomona, and Whittier City school districts, with the organization investing new resources in the past three years to advance EL campaigns in the Pomona, Long Beach, and Los Angeles school districts. As a result of the EL Campaign, PON developed a program, 4 English Learner Success (4ELS), to broaden parents' knowledge about English Language Development and their children's progress towards reclassification and further success in schools.
"During the campaign we learned that parents don't know that their children are ELs, and that includes parents whose children are enrolled in dual immersion programs," Araceli said. "Parents assume that because their children were born here and speak more English than Spanish, they're fluent English speakers. Through the [4ELS] training we are able to open their eyes, open their children's academic records, and really help parents assess their children's progress in language development and toward reclassification."
Through the development of this training, in 2022-23 PON successfully connected with 450 parents and built the capacity of 83 parents. These parents completed nine workshops, resulting in 12-18 hours of training total on the in's and out's of EL programs, how instruction works, what reclassification criteria involves, and ultimately graduated the program with a greater understanding of where their child stands in the education system.
Araceli says that the impact lies in connecting and engaging with parents about their children's education and learning. Recently, Araceli recalls, one school was considering cutting their EL coordinator in upcoming budget cuts even though the district had a high population of ELs. Once parents became connected with 4ELS coordinators and understood what was happening, they immediately attended the school's meeting and advocated for their children to keep the EL coordinator position. Araceli says that once parents collectively voiced their concerns, the coordinator position was retained.
"It seems like there's no accountability," Araceli says. "The state doesn't want to become responsible, but county offices are not really playing that role either. So it really comes down to the parents and exercising their rights and making them valid."
Schools typically rely on one-way communication methods with parents, which can be both ineffective and exclusionary. Although districts have been taught that they need to use two-way communication where both the sender and receiver invite and offer feedback, Araceli says, they seldom follow through with that promise.
Whether it's a lack of information surrounding English Language Development on report cards, or the digital access barriers for low income families, school districts continue to struggle to accurately communicate students' progress—and shortcomings—to parents.
"We are always seeing that the school districts are changing and shifting towards the right direction, but it's slow and it takes time," Araceli said. "And at the same time that they're improving, we're also seeing other needs around mental health and chronic absenteeism. So we want to make sure that the schools are working more closely with families because in order to address all of it—absenteeism, mental health needs, academic and learning needs—they need to work together, otherwise they're not going to be able to close these gaps."
Another takeaway that came out of PON's EL Campaign is that the reclassification process needs to be made more accessible—and attainable—for students and families. Reclassification refers to the process whereby a student is reclassified from EL status to Fluent English Proficient status. Students remain classified as an EL until they achieve proficiency in English on a variety of criteria, with testing occurring on an annual basis. Araceli says that the current reclassification criteria establishes far too many requirements for a student to meet within one school year, and that there is too much variation in implementation across schools. In addition to high academic standards, the current process requires a high level of coordination to usher students to various tests. The responsibility to review and promote students often falls on the school sites where challenges persist in the education of staff and leadership around ELs.
"We are advocating for our champions, our EL advocates, to not shy away from improving the reclassification criteria and process," Araceli says. "We know it's messy, and that different actors, different people have different ways of fixing it. But it's time to engage in that conversation because it's not working. It's confusing for both parents and implementers."
Araceli says that although this work is challenging, it's paramount to the success of our ELs, and that Sobrato Philanthropies has helped PON in not just funding this important work, but providing spaces for these transformational conversations.
"Prior to Sobrato, I had been telling several of our coalition champions and leaders in different spaces about the reclassification challenge and for a while they weren't listening," Araceli said. "They kept dismissing it until Sobrato said 'No, we funded all of these grassroots groups because we want to hear about families' experiences and know reclassification is a big issue. We're not going to dismiss it.' The minute [Sobrato] made that statement, partners opened up to the conversation. To me, that's a very concrete example of the role that funders can play beyond the dollars."
Looking forward, Araceli says that PON is continuing to share their recently published report on 5 Key Learnings from their EL Campaign and further support parents to become more adept at monitoring their child's academic progress and better locate resources to support overall student well-being and success. This phase will include communications, outreach, and leveraging and growing PON's network to reach even more families. 
"A high point in my job is those moments where parents really get to fully understand what's happening. And on some occasions, it's joy. 'My child reclassified!' In others it's like, 'Oh, they're so close. We're going to work on this with the teacher.' The minute that the parent knows they request the meetings with a teacher, with an email coordinator, with a principal, and we've seen how the system responds when the parents are present."
To learn more about PON's work, visit PON's 2022 Annual Report and their recently published 5 Key Learnings Brief and Report Summary and EL Data on key findings from their three-year EL Campaign.