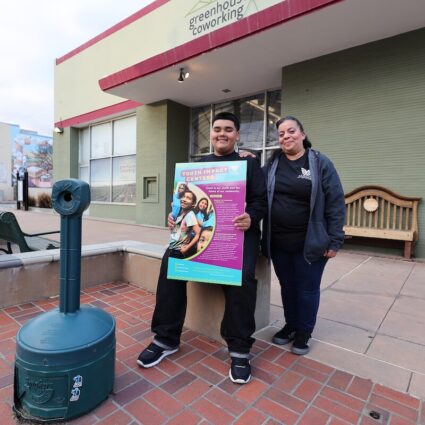 Grantee Spotlight: Gilroy Youth Impact Center
We recently sat down with Diane Ortiz, CEO of Youth Alliance to learn more about the collaborative building acquisition and launch of the Gilroy Youth Impact Center. Sobrato Philanthropies is thrilled to have the opportunity to support Youth Alliance's vision of a youth-centered economic mobility hub and a community space for Gilroy youth to build culture and power.
"We're so excited about this effort," Diane shared. "The Gilroy Youth Impact Center will be a hub for young people and families, specifically in East Gilroy." 
In this area of South Santa Clara County, the Gilroy community has been generationally impacted by underinvestment. The Center will not only serve as a physical location for young people and families to gather, but will also provide youth with supportive "cradle to career" resources. These will likely include access to drop-in programs for youth leadership, career development, and empowerment programs. 
"Most importantly, it will be a hub for the community to gather, to find connection and belonging. We believe it will be catalytic for the Gilroy community to have a physical hub, not only for young people to feel safe and seen, but a place that is theirs and run by them."
The Center will also serve as a program space for BIPOC-led organizations to utilize. "We've heard from similar organizations like ours that they have been very concerned with displacement," she said. "With inflation, high cost of rent, many youth serving organizations have been unable to find an accessible long-term space to provide vital resources for youth… We hope the Center will serve as a space for all." Diane shared that Youth Alliance's long-term goal is to eventually increase the Center's footprint so that more organizations might be able to offer programming and increased resources – opening up possibilities for coalition and power building, collaborative impact, and ensuring a stronger community.
The Gilroy Youth Impact Center has been a dream shared by several partners of Youth Alliance for some time now, including Digital NEST, which creates sustainable and scalable technology learning centers for Latinx youth, and the Latino Family Fund, a donor-advised fund of the Gilroy Community Foundation that ensures investments in Latino priorities, nonprofit organizations, and social issues.
Diane shared that Bay Area community development and financial institution Community Vision was additionally instrumental in providing strategic guidance on the project, allowing Youth Alliance, Digital Nest, and Latino Family Fund to come together through their community-owned shared space accelerator project.
"I think the reason the Gilroy Youth Impact Center has been able to raise funds and get the visibility that we've had so far is because of the different leaders that are at the table," Diane said. "Our dream for a physical location was secured by partnering with others who have different strengths. The Latino Family Fund has very deep roots in the community, and they bring credibility and respect to numerous stakeholders in the area, and Community Vision brought in this real estate expertise that we just don't have."
Collaborative idea sharing and tapping various allies has been instrumental in bringing the Gilroy Youth Impact Center to life. Especially that of initial funding and investment; one which Sobrato Philanthropies was thrilled to support.
"We have the will, determination, and enthusiasm... Can we get the investment? We're very appreciative of Sobrato Philanthropies for being one of our first primary investors. This helped us realize that our dream was possible. Sobrato's interest and support in this endeavor has helped us build the confidence to keep going." 
Diane shared that this will be the first time in Youth Alliance's history that the organization has even considered owning property. "Frankly, it wasn't something that we really thought we could do," Diane said. "But by all of us coming together, we started to better understand that we could share the risk and leverage each other's networks to make it work."
Diane and others have listened to the community voice their support and need for a Center like this. She said that Digital Nest and Youth Alliance alike have been on the hunt for years for an accessible space to better provide services for youth. "If you look at the data, you'll notice high suspension rates in schools," Diane said. "I would say it is in part due to our community's limited access to supportive resources." She additionally stressed that Youth Alliance, Digital Nest, and Latino Family Fund aren't the only ones looking to provide space and resources for local youth. Many other organizations have recognized the need, but due to the invisible funding divide between South Santa Clara County and San José, they've continued to see under investment and lack of attention for affordable facility space specifically for social organizations that provide supportive resources for the community.
"We knew it had to be accessible. It doesn't matter if you have a building if our young people can't access it." 
The goal of accessibility led Youth Alliance and their partners to secure a space right next to the Gardner Health Center in Gilroy, which will allow streamlined access to health care and mental health resources. "Our young people have been asking for this," Diane said. "During the pandemic, Youth Alliance was not able to provide a lot of our supportive services in the schools and other community locations due to COVID shutdowns and closures." And while this hindered their ability to reach local youth, it was the line in the sand that Youth Alliance needed to catalyze their efforts – marking a turning point for the organization.
"We met as a team and decided it's time for us to put a stake in the ground – to say 'we're here, we're not going anywhere, and that this is a space for you and with you,'" Diane said. "We, along with our partners, have listened to the community and came together to create this hub. The Gilroy Youth Impact Center is really this vision – it's this alignment of years of young people's voices and families advocating for space and resources.
"The Center will not only allow our youth to get access to a program, but it will also provide the opportunity to develop their own voice, grow their leadership skills, and lead in the community to champion issues they see as important. We see the Center as a physical way for us to plant some roots and to invest in local youth for many years to come."
Too often, the negative stories and data points are spotlighted in the media – clouding the hope and perspectives of what can be done when individuals work together towards a shared goal. "With this project, what we're saying now is that we can do something to transform Gilroy," Diane said. "Our young people are worthy of investment and they're ready. They're ready to be champions of this effort, to work together to really provide something catalytic and transformative. And, we believe, with the right investments, we can get all the way to the end and raise the funds." 
"It's really about collaboration, collective impact, and working together intergenerationally to change something for the future."