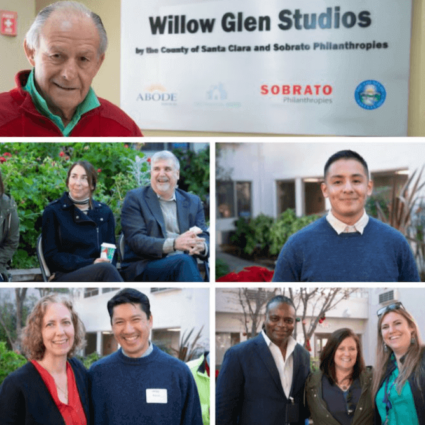 Grand Opening of Willow Glen Studios
Abode Services gathered with friends and neighbors at Willow Glen Studios on Pedro Street celebrate the success of their San Jose site that has more than 80 units transitional housing.
Willow Glen Studios has the highest success rate of any transitional housing site in Santa Clara County, as 95 percent of its residents have moved into permanent housing since it opened.
Several Santa Clara County community members and leaders joined together at the recent ceremony including event emcee Jennifer Loving of Destination: Home; Santa Clara County Supervisor Susan Ellenberg; and John A Sobrato, Board Chair Emeritus of The Sobrato Organization and The Sobrato Family Foundation. The Santa Clara County Housing Authority and Santa Clara County Office of Supportive Housing also provided partnership and support.
Louis Chicoine, Abode Services' chief executive officer, underscored the important role that transitional housing can play in addressing the region's homelessness crisis.
"The stability a home provides, whether with permanent supportive housing or a transitional housing site like Willow Glen Studios, does so much to help our participants," Chicoine said. "It helps our most vulnerable community members keep their housing and improve their lives, making the surrounding community stronger."
Original post by Adobe Services available in LinkedIn here.