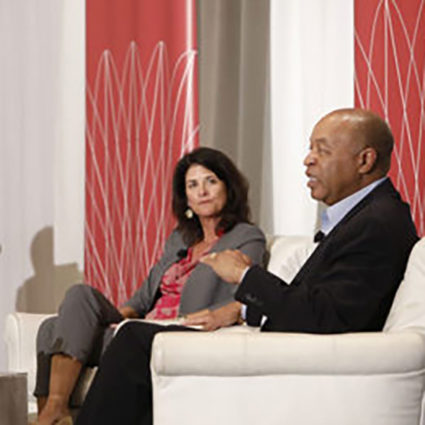 Donors and Their Families Gather for Second Family Philanthropy Forum
The Center on Philanthropy & Public Policy, in partnership with J.P. Morgan Philanthropy Centre, brought together more than 100 donors and their family members for a forum focused on the dynamics of family philanthropy and strategies and approaches for making giving more meaningful and impactful.
The forum opened with a stimulating conversation with Lisa Sobrato Sonsini, a third generation member of the Sobrato family and president of the Sobrato Family Foundation, and Rick Williams, the foundation's CEO, moderated by Bob Graziano, Managing Director and Vice Chairman of J.P. Morgan Chase.
Sonsini shared her family's journey with philanthropy, starting with the Sobrato family matriarch, "Granny Ann," who instilled in her children and grandchildren the importance of giving back to the community and fostering opportunity for the less fortunate.