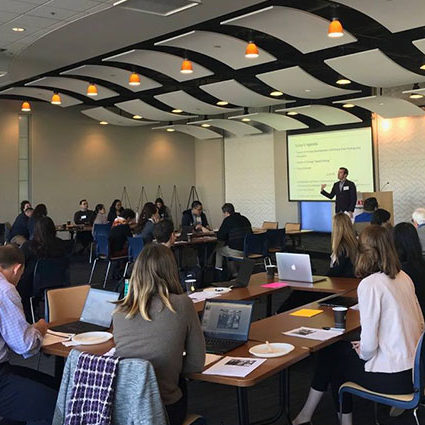 Top of Mind: Change is Not Linear
These systems are complex, lasting solutions require resilience and risk.
Over the past few years, systems change has become increasingly central to the philanthropic narrative, nationally and here in the Valley. As we dig deeper into the root causes of inequity and the neglect of even basic human needs inherent in problems like hunger, homelessness, and poverty, we are beginning to uncover a web of long-standing structures and rules that undermine opportunities for many in our community. So, while we can treat the symptoms of need and alleviate suffering by providing immediate support to our most vulnerable neighbors, the systems continue to work against them. Unless we change the systems, there will always be more need.
I recently attended our Sobrato Impact Lab convening and was struck by the incredible tenacity and potential of our grantees. Seeing and discussing their hard work reminded me that making change cannot happen by accident or by luck. Our partners don't just work hard and hope for change, they research, strategize, take risks, and collaborate with a network of community organizations to take on the multifaceted issues of our day and drive progress from all angles.
The Sobrato Impact Lab uses a combination of individualized and peer-to-peer learning to expand and accelerate participating organizations' efforts to evaluate the impact of their work. Through the Impact Lab, we work to empower organizations to achieve lasting social change by investing in their capacity to measure that change and learn from the results.
Over the course of 18-months, this intensive program equipped participants with tailored coaching, and tools and techniques to improve evaluation systems and create a culture of learning within their organizations. Our community partners attended in-person learning sessions, received nearly 100 hours of customized, one-on-one expert coaching, and developed specific plans for harnessing evaluation data and implementing new learning systems across their organizations.
Progress against these complex challenges is not linear, but these organizations and social justice leaders are committed in their pursuit of change. I am proud of the contributions we've made in further developing their skills, resources, and relationships. Our challenge now is to continue supporting these organizations and so many others in our community to lead progress and take big risks. Plans are underway to launch a second Sobrato Impact Lab in 2019.
We're ready to step up and help them lead. I hope you'll join us because successfully confronting these kinds of big, complex changes can only happen when we all contribute our unique talents and resources.
Sincerely,

Rick Williams
Chief Executive Officer