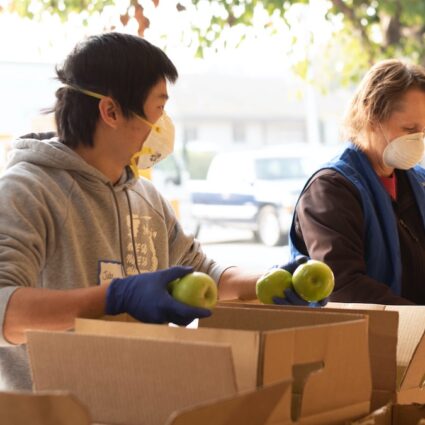 Breathtaking Opportunities
"What we have before us are some breathtaking opportunities disguised as insoluble problems." – John W. Gardner, Engineer of The Great Society
I met John W. Gardner at Stanford when he was an emeritus professor in his 80s and I was a young graduate student. I was ambitious for change and keen to make an impact. He was an accomplished public servant and civil society icon. I was struck by his candor and humility as he joked about how his mother continued to fret over whether he was going to turn out OK, even as he was in the White House architecting The Great Society. 
There's a tension in driving for positive social change. The road is long and progress is rarely linear. Not everyone understands our journey. We need to believe that breathtaking opportunities are hidden in our thorniest challenges, and that we can make a difference despite seemingly intractable odds.
As we reach the Winter Solstice, I find myself reflecting again on John Gardner's life and his optimism, and profoundly moved by the state of the world and the opportunity before us to harness seemingly insoluble problems to create a new and better reality. This is a moment of deeply conflicting emotions — devastation at the compounding crises of health, economy, and justice and yet hope at the possibility that we have reached a tipping point where change is not only necessary but inevitable. Perhaps this is a John Gardner moment unlike any other. And perhaps we each have a role to play in ensuring its success.
Four months ago, I joined as the new president of Sobrato Philanthropies, chartered to lead this remarkable family's vision to expand opportunity for all in Silicon Valley while also tackling global issues affecting communities at home and around the world. I am deeply inspired by this family and team and their drive to make the most of every opportunity to support our partners and advance meaningful change. I am compelled by the family's tremendous respect for community and persistent desire for tangible impact. I am motivated by the marriage of intellect and heart they bring to every endeavor. I've experienced a profound generosity in our board and team's willingness to listen, their openness to new possibilities and perspectives, and their insistence on an ambitious stance in philanthropy during a time of great uncertainty. 
While our current reality can seem overwhelmingly fraught, it is equally compelling. For all the need, there is unity of purpose. For all the uncertainty, there is opportunity to innovate and drive change for the better. For all the suffering, there are those stepping up to help and developing new ways of amplifying social good. And it is an incredible privilege to be in a position to take action. Out of the chaos of our compounding challenges, new rules can be written. Systems can be rebuilt to be more equitable.
This is a time to ensure our neighbors can support and feed their families. It's time to confront the existential threat of climate change. It's time to reckon with our long legacy of racial injustice. It's time to face each challenge head on and support the emergence of a healthy and more equitable world. 
Despite the challenges of this year, or perhaps because of them, I am inspired each day to do this work alongside the Sobrato family, our dedicated team, and with all of you. I have deeply appreciated the time many of you have spent with me and look forward to getting to know all of you in the months ahead. The demands of this period have been unlike anything we have faced before, but we will face them together. And together we will find the breathtaking opportunities so well hidden in the challenges before us.
As we navigate a very different kind of holiday season, I hope you are sheltered safely. I wish you peace and time for reflection. And as we move into 2021, I hope you will join me in approaching this time not with despair for the barriers we face, but with optimism for what is possible and a commitment to leverage every tool at our disposal to make the most of this moment.
In partnership,


Sandy Herz
President
Sobrato Philanthropies